About the Medical Response Unit
Florida State University's Medical Response Unit is one of the finest collegiate EMS organizations in the state of Florida and on of only 145 such units in the United States. Staffed by over 100 trained student volunteers, with certifications ranging from emergency medical responders, EMTs, and paramedics, the unit provides coverage for many of the university's major events, including countless 5K runs, football pre-games, baseball games, student-organized events, and intramural sports. Some special events that the unit covers include Dance Marathon, FSU Flying High Circus, Relay for Life, Homecoming Parade, and Welcome FSU.
The Medical Response Unit has been recognized by many groups and individuals for its dedicated service to the FSU community. In addition to student volunteers, the unit is staffed by a program manager, and a training coordinator which are both State of Florida certified Paramedics, and three EMT field supervisors.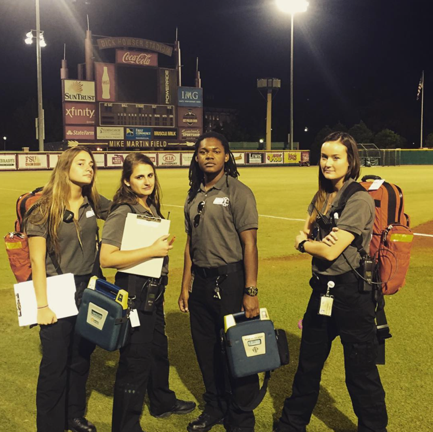 In order to facilitate a rapid response to emergencies, the Medical Response Unit maintains several vehicles, including electric carts. These are all outfitted with emergency lights and sirens and are stocked with a variety of medical supplies, including oxygen and automatic external defibrillators. In the event of an emergency, the crews responding can provide an initial assessment as well as treatment. If necessary, the crew can begin "packaging" a patient for transportation, saving the ambulance crew vital minutes once they arrive on scene. Should transportation not be needed, the crews can advise the patient on how to proceed, saving students much needed income (an average charge of $500+). This can include courtesy transportation to the Mary B. Coburn Health & Wellness Center on campus for FSU students. 
The Medical Response program offers services beyond its presence on campus. The unit also serves to educate by making students aware of ways to prevent, as well as handle, emergency situations. The unit provides safety presentations to student groups and departments to further promote our safe campus. If your organization is interested in a presentation from the MRU, please contact Yendy Gonzalez at yg23j@fsu.edu. 
If you are interested in becoming part of the Medical Response Unit, e-mail uhs-mru@fsu.edu.