University Health Services offers routine appointments and same day appointments. We offer Nursing Triage and a Priority Clinic on the first floor for urgent situations that need immediate attention. Of course, if you are experiencing a life-threatening emergency, call 9-1-1 immediately!
Please remember to bring your FSU-Card and your insurance card with you to your scheduled appointment and show them to the receptionist when you check in.
Please Arrive On Time!  Patients should arrive at least 15 minutes prior to routine appointments. Some appointments will require arrival 1 hour prior to the scheduled time. Please refer to appointment reminder information or inquire in the clinic if you are unsure. 
If you are unable to make your scheduled appointment, please call 24 hours in advance to cancel.
Please note: Patients who are late will be rescheduled and charged a no-show fee. Those who miss a scheduled appointment will be charged a no-show fee. The fees vary according to clinic and appointment type.
Visit Verification
Students being evaluated at the Health Center for medical issues may receive a Verification of Visit, which documents date and time.  These do not constitute a medical excuse from work or classes.  Documentation of restrictions in physical activity or home care are provided as appropriate.  The University Health Services does not provide "class excuses" for routine visits or minor medical issues.
Contact Us
850-644-4567
Appointments are required for all clinics including the General Medical Clinics, Psychiatric Clinic, Women's Clinic, and Allergy Clinic.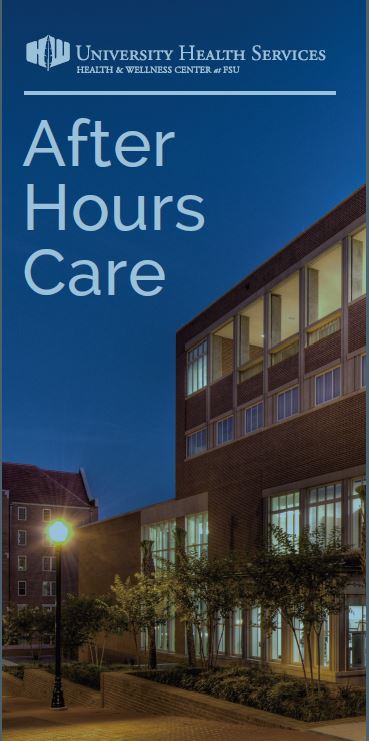 For other after-hours healthcare needs, review our After Hours Care brochure.
title-inside title-centered
2