Laboratory services at University Health Services are provided on-site through Quest Diagnostics. The laboratory, located on the first floor of UHS, performs many tests in-house as ordered by clinicians with rapid turn around time. Also, it provides many specialty test services, which can be sent to a Quest Diagnostics reference lab with 24 to 48-hour turnaround times. Quest accepts most insurances and serves as the Health Center's primary lab.
Quest Diagnostics is an independent operation and is not a part of the Health Center. They are located in the building for the convenience of students. Your insurance is billed directly by Quest Diagnostics. If you have any questions regarding lab billing, please call 800-743-7440.
To access your lab results through Quest click here to register:
LabCorp
Certain insurance companies such as United, Capital Health Plan and Coventry, may require their members to utilize the services of LabCorp for all diagnostic testing services.  LabCorp has several locations in the Tallahassee area. Check with your insurance company for the requirements of your particular plan.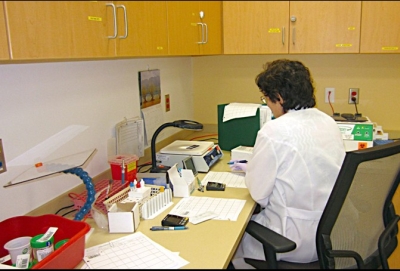 To access your lab results through LabCorp:
Click here to register
title-inside title-centered
2