Quest Diagnostics and LabCorp are independent labs and are not operated by the Health Center. If you have any questions regarding services, they should be contacted directly. 
Quest Diagnostics
Quest Diagnostics, located on the first floor of UHS, performs many tests in-house making same-day results possible. Specialty test services are sent to a Quest Diagnostics reference lab with 24 to 48-hour turnaround times. Quest is open 8:00 a.m. to 5:00 p.m. Monday through Friday and accepts most insurances. Your insurance is billed directly by Quest Diagnostics. If you have any questions regarding lab billing, please call 800-743-7440.
To access your lab results through Quest click here to register: https://www.questdiagnostics.com
LabCorp
LabCorp located on the first floor of UHS in room 1034, operates a patient specimen collection center. Hours of operation are from 8:00 a.m. to 4:30 p.m., Monday through Friday. Lab tests that require immediate results will be tested at our laboratory in Tallahassee; routine or specialty testing results are available within 24-72 hours of collection. LabCorp accepts most insurances including Capital Health Plan and will bill your insurance directly for services. Billing customer service is available for questions at 800-845-6167.
Be sure to download the LabCorp Patient Mobile App to schedule appointments and view your lab results.
The LabCorp Patient Portal https://www.labcorp.com/results allows you to view, download and print your LabCorp test results and schedule appointments.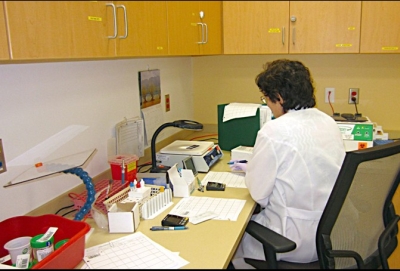 title-inside title-centered
2