What if I test positive?
Positive cases of COVID-19 should remain isolated for 10 days from test date and will be released from isolation on the 11th day. (Rarely, some individuals may only be released after consultation with their doctor).
*A limited number of persons with severe illness or patients who are severely immunocompromised may need to be isolated for 20 days after symptom onset; consider a consultation with infection control experts.
Isolation is used to separate people infected with the virus from those who are not infected. People in isolation should remain home, and then within their home, separate themselves from other members of their household by staying in a designated room or area to minimize the risk of exposing others in the home.
https://www.cdc.gov/coronavirus/2019-ncov/if-you-are-sick/index.html
I was contacted by the SAFER Team. Who are they and what do they do?
Secure Assessment for FSU Exposure Response (SAFER)
The SAFER Team works with students, faculty, and staff who have been exposed to or tested positive for COVID-19 to provide contact assessment and support.
The SAFER team is made up of public health experts such as epidemiologists and contact reviewers. If you are exposed while on campus or if you test positive for COVID-19, expect a call from the SAFER team. All information will remain fully confidential. Please be ready for their call and pick up the phone. The health of the FSU community relies on each of us doing our part.
Working closely with University Health Services and the Leon County Health Department, the SAFER team will help you know when you are approved to return to campus activities.
Contact info for SAFER: 
850-644-5555
COVID19@fsu.edu
Read more here.
What if I am experiencing symptoms?
Do not wait for University provided testing if you have come in contact with or cared for a person diagnosed with COVID-19, or if you have experienced any COVID-19 related symptoms. Please seek the immediate attention of a primary care provider for evaluation, testing, and possible medical treatment.
What if I come in contact with someone who has tested positive for COVID-19?
Close contacts (came within 6 feet of someone who has COVID-19 for at least 15 minutes) should:
Stay home for 14 days after their last contact with a person who has COVID-19.
Watch for fever (100.4°F or more), cough, shortness of breath, or other symptoms of COVID-19.
If possible, stay away from others, especially people who are at higher risk of getting very sick from COVID-19.
Quarantine is used to keep someone who might have been exposed to COVID-19 away from others. Quarantine helps prevent the spread of disease that can occur before a person knows they are sick or if they are infected with the virus but not experiencing symptoms.
Always wear your face covering when you are outside of your room.
Frequent hand washing or use of hand sanitizer with at least 60% alcohol.
You can leave your room for essential activities such as getting food, medication, or necessary supplies, but must keep your contact with others limited to less than 15 minutes and at least 6 feet apart. 
Do nothing that puts you within 6 feet of anyone for 15 minutes or more.
https://uhs.fsu.edu/sites/g/files/upcbnu1651/files/docs/0_EUA-OSCEOLA_LDT-patients.pdf
How much does testing cost?
The University intends for faculty, staff, and students not to incur any direct costs for testing. We plan for costs to be covered by an individual's health insurance or for the University to cover the costs if someone does not have health insurance.
When is testing?
Testing is by appointment only. You must register in the COVID-19 Testing Registration Portal for a testing appointment at least one business day prior to the requested appointment time. Once registered, you will report to the Donald L. Tucker Civic Center for testing.
My insurance provider is not listed as an option. The system won't let me go to the next step in the registration process without entering a group number.
This occurs with some insurance carriers. Please enter "000000" for the group number so that you may proceed to the next step in the registration process.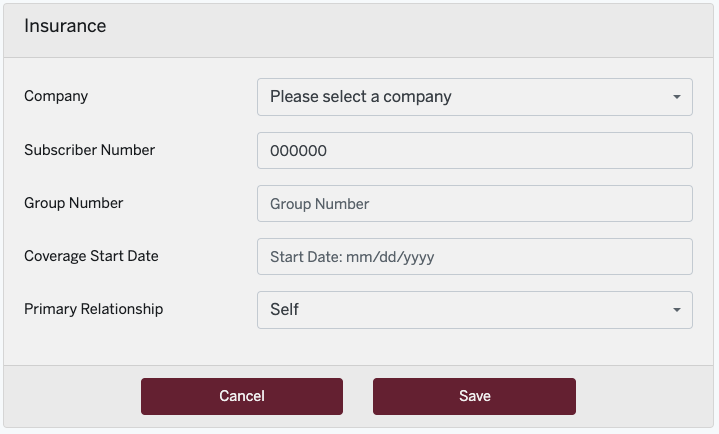 What if it tells me that there are no available times?
Ensure that you are clicking on an operational day.
You will need to click through each day to see if there are any "available times".
When I registered for the COVID test, a former last name automatically populated. Does this need to be changed prior to testing?
If you need to update and/or change your name, the Registrar and the Health Center need to be notified. Please click here for name change instructions.
Is testing mandatory?
Employees:
Florida State highly encourages all individuals who will be present on campus to undergo testing for COIVD-19 through a recognized testing procedure of their choice before returning to campus. If you are in the Tallahassee area, review the university's testing information: uhs.fsu.edu/covid-testing-fsu.
Students:
COVID-19 testing is encouraged but voluntary with the exception of students who will be living in our residence halls (visit housing.fsu.edu/future-residents/residence-hall-move-in-fall for more details).
I am planning to live on campus and I was recently tested at home and received a negative test. Can I submit my results to the university in lieu of getting another test on campus?
Students:
No, you will still need to take a test at FSU. Considering the current COVID-19 pandemic, all residential students are expected to take an on-campus COVID-19 test immediately prior to moving into the residence halls. COVID Testing is by appointment only, and you must register using the link on the home page. 
I am planning to live on campus and I was recently tested at home and received a positive test. Should I plan to get tested again at FSU?
Students:
No. you will need a letter from your physician or local health department with an end date for self-isolation and a release to live in a university residence hall. This can be sent to the University Health Services Medical Records at uhs-medicalrecords@fsu.edu or fax 850-644-2737.
What happens after testing?
Employees:
Upon receipt of a negative test result, employees should communicate with their supervisor to discuss their scheduled return date and confirm any details of their return, including the expected work schedule, work location, and assignment, if applicable. Employees who test positive, either with University provided testing or external testing, are required to immediately notify the Office of Human Resources.
Students:
You can check your portal for results 24-72 hours after testing. If you test positive, you will receive a call from University Health Services with additional follow up information.
Do I need to submit my test results to anyone?
Employees:
Employees who test positive, either with University provided testing or external testing, are required to immediately notify the Office of Human Resources.
Students:
At this time, you do not have to submit your results to anyone.
What type of tests are used?
FSU is conducting PCR (polymerase chain reaction) viral tests with a nasal swab that tells you if you have the infection (https://www.cdc.gov/coronavirus/2019-ncov/symptoms-testing/testing.html).
https://uhs.fsu.edu/sites/g/files/upcbnu1651/files/docs/0_EUA-OSCEOLA_LDT-patients.pdf
title-inside title-centered
2